Hello. Once again, I must apologise for the lack of up-dates here on my stupid blog. Real events out there in the actual world have occupied my time, at least to the extent that I've not felt like keeping a diary. Although perhaps I should have. Anyway, so – what's a-going on, then?
Well, firstly, I've spent a while making some new prints, which are called wait here, we will come for you, and holding hands. Since I made the artwork for the 2015 Glastonbury Festival I've kind of had the moon in my head a bit, so they've both got the moon in them. I haven't had them photographed yet, but there are some details over on my Instagram 'feed'. Actually, that reminds me, I haven't even written about the artwork I did for Glastonbury! Well, it was ages ago now so you won't care anyway. All you need to know is that the Dalai Lama (yes) put it on his head to shelter from the rain. And it was called moons over Pilton and it looked like this: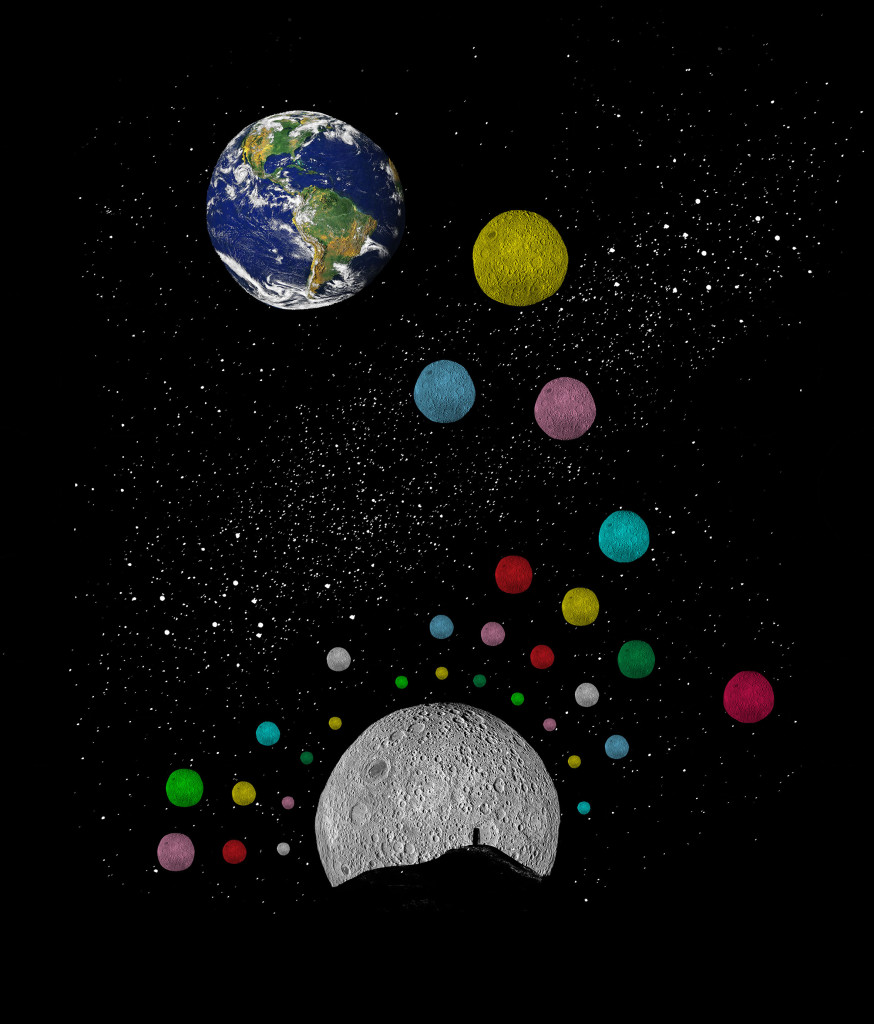 And yes. The Dalai Lama. That particular event made the Daily Mail, you know. The Daily Mail.
Sorry to digress. So, right, you may be interested to hear that I'm opening another of my minuscule 'web-shops' pretty soon, and both wait here... and holding hands will be available within its gleaming digital portals. But nothing else. Not until I get my Zmas Boutique sorted out, anyway.
Right, what else is going on/has gone on but I forgot to tell anyone? Er. There will be another opportunity, or an opportunity, to see the artwork I did for the novels of JG Ballard. This will be in the Peninsula Gallery in lovely lovely Plymouth, England. There are some details here:
I did some of the experiments (well, I didn't do them, Dr Roy Lowry did the clever part) that were photographed and used in the artwork for my Ballard book covers at Plymouth University, of which the Peninsula Gallery is a part. The night before, they're showing Spielberg's film of Ballard's 'novelised autobiography' Empire of the Sun, so if you fancy a load of dystopia and a movie with Christian Bale, John Malkovich, Miranda Richardson and the versatile Nigel Havers you could do worse than going all the way to the edge of Cornwall. And why not. I spent about six years there. On the dole.
Apart from those two bits of news everything's a little vague. Like I said, or at least alluded to, there will be a Zmas Boutique again this year, probably opening in mid-November. And there'll be another little shop before that. Soon. Other things are happening, but I'm not going to tell you anything about them yet. Watch the skies! or at least, twitter and Instagram. Salut!